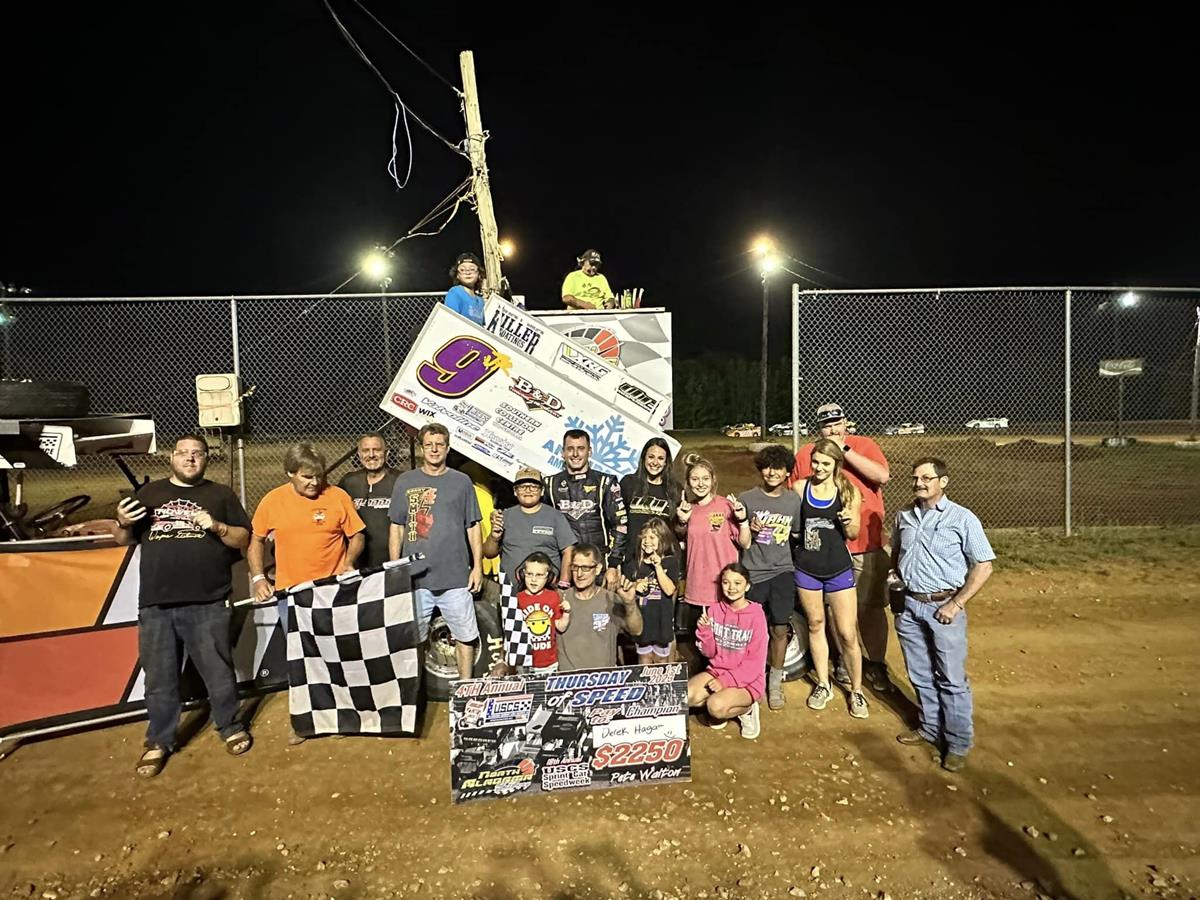 6/5/2023
Inside Line Promotions
---
Hagar Becomes First Driver to Sweep USCS Series Speedweek by Winning All Six Races
Inside Line Promotions – MERIDIAN, Miss. (June 5, 2023) – Derek Hagar is now 7-for-7 as he's won each of his seven sprint car starts this season.
The impressive run marks the best winning streak he's achieved in his career and it guided him to another USCS Series Speedweek championship as he swept all six main events the last two weekends, becoming the first driver ever to win each Speedweek race.
"It was crazy," he said. "I wasn't expecting to win all six races. I was thinking two or three. Some of those tracks weren't the best tracks for me. We were able to get good track position and capitalize when it counts."
The second half of Speedweek began last Thursday at North Alabama Speedway in Tuscumbia, Ala. Hagar won both a heat race and the dash from the outside front row to earn the pole position for the A Main.
"Whenever you get to traffic you hope to make the right moves," he said. "I stayed in the middle to bottom of the track. I was a little free coming off turn four. I felt I could hear somebody right behind me, but I wasn't really challenged for the lead. The track ended up taking some rubber. At that point I had to start racing conservative to make sure we had tires at the end."
Hagar and his team invaded Hattiesburg Speedway in Hattiesburg, Miss., on Friday. The night was another sweep as Hagar captured a heat race from the pole position, the dash from third and the main event from the pole.
"We drew good numbers all week," he said. "It's all based off passing points. Starting on the pole of the heat race, even though you win it it barely gets you into the redraw and sometimes the first one driver not making the redraw. I was nervous because that track is all about track position. We were lucky enough to get in the dash and then draw the No. 3. I was able to get the lead coming off turn two and win the dash. It was the same circumstance in the feature. I felt glued to the track the whole race. I could hear somebody to the outside of me, but I didn't have the challenge of getting slid or someone going around me. About halfway through the track started rubbering up. Then with about four laps to go a guy blew a motor and we had a red. We were pretty used up on tires. I just tried to drive it like a pavement car and keep the tires from spinning the rest of the way."
A high pill draw lined Hagar up ninth in a heat race on Saturday at Whynot Motorsports Park, but that didn't slow him as he hustled to a second-place effort. A runner-up result in the dash started Hagar on the outside of the front row in the feature.
"We had a good week of drawing pills so I guess the racing gods told us we needed to start at the back of something," he said. "I knew in 10 laps I'd have my plate full. To go from ninth to second in the heat race put us high-points driver. We drew the No. 1 for the dash and I started beside Koty Adams. I hit the moisture and started coming up. He had a hell of a run. We kind of banged wheels and he took off to win the dash. I felt like that was a benefit for me because that gave me the preferred lane going into turn one at the start of the feature.
"He was able to get the better start and in front of me. We had a restart on Lap 4 and he short slid the corner. It left me enough room to where I could drive around him. I got in the moisture up top and stood on the gas. I barely squeezed between him and the wall to take the lead. Being in traffic around halfway I noticed lapped cars were getting faster so I moved down. We had another late caution and I just tried to drive it like a pavement car again. It all worked out."
Hagar is aiming to keep his winning streak this Friday at Crowleys Ridge Raceway in Paragould, Ark., with the ASCS Mid-South Region and Saturday at Riverside International Speedway in West Memphis, Ark. Hagar will also pilot the McCord 305 sprint car on Friday.
QUICK RESULTS –
June 1 – North Alabama Speedway in Tuscumbia, Ala. – Heat race: 1 (2); Dash: 1 (2); Feature: 1 (1).
June 2 – Hattiesburg Speedway in Hattiesburg, Miss. – Heat race: 1 (1); Dash: 1 (3); Feature: 1 (1).
June 3 – Whynot Motorsports Park in Meridian, Miss. – Heat race: 2 (9); Dash: 2 (1); Feature: 1 (2).
SEASON STATS –
7 races, 7 wins, 7 top fives, 7 top 10s, 7 top 15s, 7 top 20s
UP NEXT –
Friday at Crowleys Ridge Raceway in Paragould, Ark., with the ASCS Mid-South Region and Saturday at Riverside International Speedway in West Memphis, Ark.
MEDIA LINKS –
Website: http://www.DerekHagarRacing.com
Twitter: https://twitter.com/HagarDerek
SPONSOR SPOTLIGHT – FK Rod Ends
From the wilds of Baja, Mexico, to the "Good Ole Boys" of NASCAR, from mowers to fitness equipment, FK Rod Ends is there with an evolving program designed to supply rod end products to users everywhere. For more information, visit http://www.FKRodEnds.com.
"Maria and the crew at FK Rod Ends are awesome to work with," Hagar said. "They take pride in their products and that's why we choose to run FK Rod Ends."
Hagar would like to thank Ameri-Panel, J&J Auto Racing, B & D Towing and Recovery, FK Rod Ends, Dynotech Performance Race Engines, A.M.P., Fragola Performance Systems, Administrative Consulting Services, Killer Coatings, Beazt Composites, Xtreme Race Graphics, Southern Collision Centre, AR Dyno Specialty, Jeff's Heating and Cooling, ButlerBuilt Professional Seat Systems, Weld Wheels, DHR Suspension, Hinchman Racewear, Wix Filters, Valvoline, Ti64 and Builtwiser Wings for their continued support.
INSIDE LINE PROMOTIONS –
Inside Line Promotions specializes in affordable public relations and media management for motor sports drivers, teams, sponsors, tracks, series, events, organizations and manufacturers. ILP Founder Shawn Miller leverages professional journalism with new media technologies and social networking to improve your exposure and the return on investment for your sponsors.
To meet the media relations needs of your program by joining Team ILP, contact Shawn at 541-510-3663 or Shawn@InsideLinePromotions.com. For more information on Inside Line Promotions, visit http://www.InsideLinePromotions.com
---
Article Credit: Inside Line Promotions
Submitted By: Shawn Miller
Back to News