Upcoming Events
Schedule TBA
Race Stats
Events

37

Wins

20

Top 5

27

Top 10

31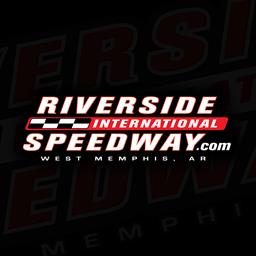 11/4/2023 - Riverside International Speedway
West Memphis, AR
Riverside International Speedway is excited to announce the Inaugural "King of Memphis" Saturday night November 4th as our season finale.
A full feature program of Winged Sprint Cars is set for action with Sammy Swindell and Eddie Gallagher starting at the tail end of the field in search for the title of "King of Memphis".
The Open Late Model event scheduled for October 21st will also join the action-packed card along with 600 Mini Sprints, and Stock Cars.
The traditional season ending bonfire will close out the festivities after the races are concluded.
Quinton Farms Stocks

27 entries

Big Creek Cannabis 305 Winged Sprints

27 entries

Late Models

32 entries
Full Event Information on MyRacePass
Competitor Overview
---

| Big Creek Cannabis 305 Winged Sprints | Start | Finish | +/- |
| --- | --- | --- | --- |
| A Feature 1 | 4 | 1 | 3 |
| Heat 2 | 6 | 3 | 3 |
Big Creek Cannabis 305 Winged Sprints
Finish
Start
#
Competitor
Hometown
+/-
1
4
29
Derek Hagar Marion, AR
Marion, AR
3
2
1
44B
Brad Bowden Hernando, MS
Hernando, MS
-1
3
6
74
Tucker Boulton Brighton, TN
Brighton, TN
3
4
10
47
Dale Howard Byhalia, MS
Byhalia, MS
6
5
9
23W
Conner Wray Olive Branch, MS
Olive Branch, MS
4
6
3
48
Wade Buttrey Fairview, TN
Fairview, TN
-3
7
14
17
Hayden Brinkley Bono, AR
Bono, AR
7
8
22
1X
Eddie Gallagher Olive Branch, MS
Olive Branch, MS
14
9
17
5L
Dusty Young Benton, AR
Benton, AR
8
10
15
23
Ethan Jones Sarah, MS
Sarah, MS
5
11
21
1
Sammy Swindell Germantown, TN
Germantown, TN
10
12
18
10K2
Dewayne White Byhalia, MS
Byhalia, MS
6
13
8
4C
Cooper Looney Jonesboro, AR
Jonesboro, AR
-5
14
11
21
Spencer Meredith Hernando, MS
Hernando, MS
-3
15
5
44
Ronny Howard Nesbit, MS
Nesbit, MS
-10
16
2
46
Jan Howard Marion, AR
Marion, AR
-14
17
13
28
Keith Ainsworth Munford, TN
Munford, TN
-4
18
16
2
Chase Howard Nesbit, MS
Nesbit, MS
-2
19
12
51X
Cody Hays Wynne, AR
Wynne, AR
-7
20
7
25X
Tyler Whatley West Memphis, AR
West Memphis, AR
-13
21
20
13
Joshua Cevela , OH
, OH
-1
22
19
6
Jake Jones Marion, AR
Marion, AR
-3
Finish
Start
#
Competitor
Hometown
+/-
1
3
2
Chase Howard Nesbit, MS
Nesbit, MS
2
2
1
5L
Dusty Young Benton, AR
Benton, AR
-1
3
9
10K2
Dewayne White Byhalia, MS
Byhalia, MS
6
4
8
6
Jake Jones Marion, AR
Marion, AR
4
5
2
13
Joshua Cevela , OH
, OH
-3
Top 5 transfer
6
4
2T
Todd Bradford Arlington, TN
Arlington, TN
-2
7
6
16
Hannah Merritt Nesbit, MS
Nesbit, MS
-1
8
5
15
Noah Collier Hernando, MS
Hernando, MS
-3
DNS
7
7B
Nathan Brown Marion, AR
Marion, AR
-
DNS
10
25
Marshall Skinner Marion, AR
Marion, AR
-
Finish
Start
#
Competitor
Hometown
+/-
1
1
44
Ronny Howard Nesbit, MS
Nesbit, MS
-
2
2
25X
Tyler Whatley West Memphis, AR
West Memphis, AR
-
3
4
23W
Conner Wray Olive Branch, MS
Olive Branch, MS
1
4
3
28
Keith Ainsworth Munford, TN
Munford, TN
-1
5
8
47
Dale Howard Byhalia, MS
Byhalia, MS
3
6
5
2
Chase Howard Nesbit, MS
Nesbit, MS
-1
7
9
5L
Dusty Young Benton, AR
Benton, AR
2
8
7
7B
Nathan Brown Marion, AR
Marion, AR
-1
9
6
25
Marshall Skinner Marion, AR
Marion, AR
-3
Finish
Start
#
Competitor
Hometown
+/-
1
3
48
Wade Buttrey Fairview, TN
Fairview, TN
2
2
7
46
Jan Howard Marion, AR
Marion, AR
5
3
6
29
Derek Hagar Marion, AR
Marion, AR
3
4
8
74
Tucker Boulton Brighton, TN
Brighton, TN
4
5
1
13
Joshua Cevela , OH
, OH
-4
6
4
2T
Todd Bradford Arlington, TN
Arlington, TN
-2
7
2
16
Hannah Merritt Nesbit, MS
Nesbit, MS
-5
8
5
10K2
Dewayne White Byhalia, MS
Byhalia, MS
-3
Finish
Start
#
Competitor
Hometown
+/-
1
6
44B
Brad Bowden Hernando, MS
Hernando, MS
5
2
1
4C
Cooper Looney Jonesboro, AR
Jonesboro, AR
-1
3
2
21
Spencer Meredith Hernando, MS
Hernando, MS
-1
4
4
51X
Cody Hays Wynne, AR
Wynne, AR
-
5
5
23
Ethan Jones Sarah, MS
Sarah, MS
-
6
8
17
Hayden Brinkley Bono, AR
Bono, AR
2
7
3
15
Noah Collier Hernando, MS
Hernando, MS
-4
8
7
6
Jake Jones Marion, AR
Marion, AR
-1
Upcoming Events
Schedule TBA
Race Stats
Events

37

Wins

20

Top 5

27

Top 10

31