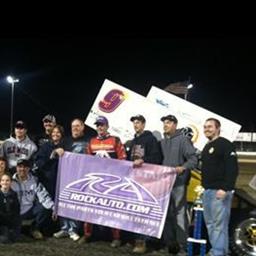 ---
Hagar at I-30 Speedway
Little Rock, AR (4/15/11-4/16/11)-This weekend could have been a little better for us, but we aren't losing faith in having an awesome racing season this year.
Friday night, Derek Hagar started 3rd in the last heat race of the night. Coming out of turn two, Hagar missed the bottom and was passed coming to the checkered flag giving him a 4th place finish and qualifying him for the 2nd starting position in the 2nd "B" feature. Hagar finished where he started in the B-Main event putting him in the 20th starting position for the main event of the night. Hagar charged his way from 20th to 8th (how's that for a hard charger!), and with three laps to go as he was working his way into 7th, a driver lost control and turned him over coming out of turn two. Not the finish we were looking for!
After an unexpected end to Friday night's race, Hagar replaced his wings and set his focus on Saturday night's events.
Hagar started 5th and finished 5th in the first heat race of the night placing him in the 2nd "B" feature. In the first heat, track conditions made for a one lane track with very few passing opportunities. Hagar qualified for the 5th starting position in the "B" feature and finished 7th. Unfortunately, only the top three qualifiers in each "B" feature could advance. Hagar's night ended a little sooner than he wanted, but that didn't discourage him. He stated, "There just wasn't anywhere for me to go tonight. Track conditions weren't the best, and I wasn't able to get to where I wanted to be. Hopefully things will go better for me next time."
Derek plans to run at I-30 again this upcoming weekend.
***Want to know how Derek Hagar is doing throughout the season? Follow him on Twitter ("DerekHagarRacin"), on Facebook ("Derek Hagar Racing" fan page), and on derekhagarracing.com
Back to News