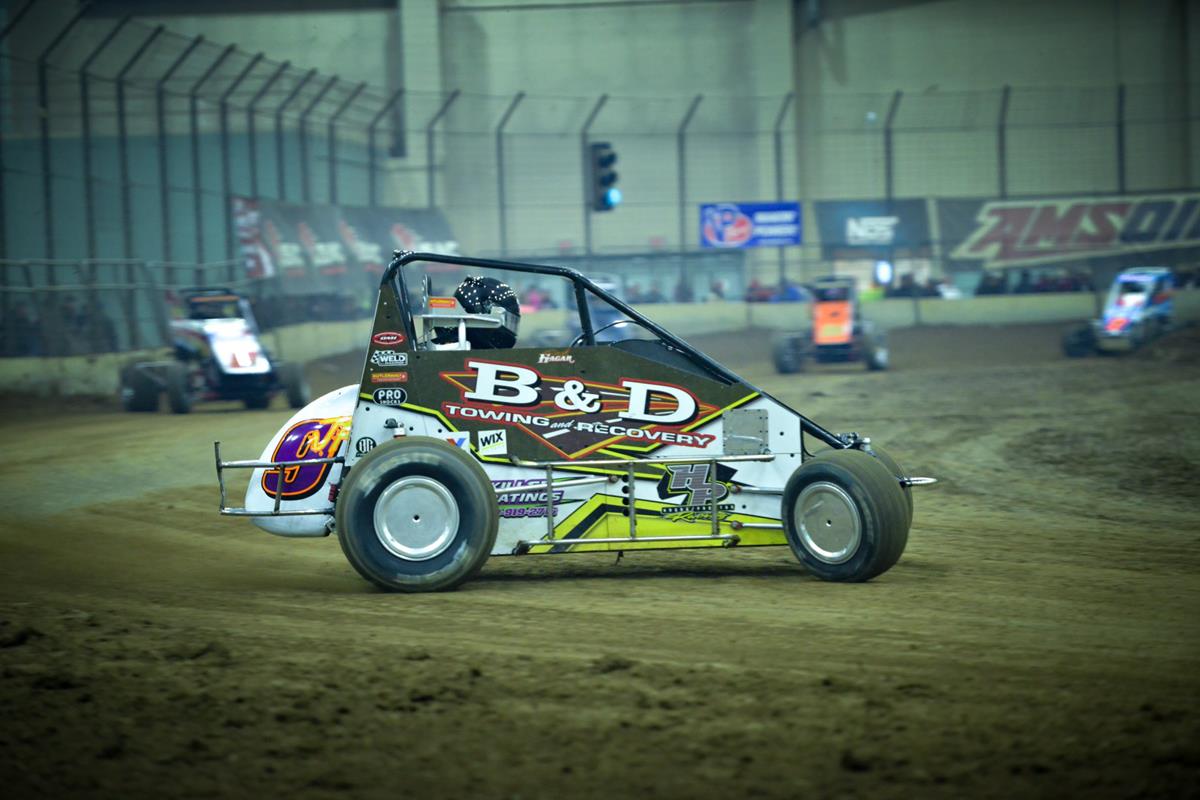 12/18/2018
Inside Line Promotions
---
Hagar Powers to Career-Best Midget Finish During USAC's Junior Knepper 55
(Photo by Johnny Blaine Smith)
Inside Line Promotions – DU QUOIN, Ill. (Dec. 18, 2018) – Derek Hagar earned his career-best midget finish last Saturday evening during the Junior Knepper 55 held inside the Southern Illinois Center.
Hagar, who was making his first start in the midget he co-owns with Jonathan Proctor since last January, rallied to post a third-place finish during the USAC P1 Insurance National Midgets event.
"They tried something different with the draw format trying to take the luck of the draw out of it, but there's still luck involved," Hagar said. "We felt like we picked a good spot to get some passing points and build for the night.
"In hot laps we couldn't get the thing to run. I pulled in and we changed some stuff with the fuel system. I went into the heat race not knowing what was going to happen. Luckily, the car was good and we pulled out a second-place finish."
Hagar advanced from third to second place in a heat race before he won a qualifier from the third starting position.
"Coming off turn two I took the lead and led every lap," he said. "That put us seventh in points. We were going there just wanting to make the show and shake the car down to get ready for the Chili Bowl so we were excited.
"We had a setup issue with tires. We were going to have either too much stagger or not enough. In previous experience we've seen that track rubber up so we decided to go with more stagger. We really, really struggled early in the race. Then the track started cleaning off and I started making shock adjustments inside the car. It really came around and we were able to get a solid third-place finish."
Hagar dropped outside of the top 10 during the opening stage of the race before his late-race rally yielded his first-ever podium during a USAC race.
"I think I was ninth with 22 laps to go," he said. "The track came around and we caught the cautions at the right time. We were able to capitalize on some other people's mistakes and keep our nose clean and make it work out. A third-place finish with the USAC guys in our first race since the Chili Bowl was like a win for us."
Hagar's next race in his midget is Jan. 14-19 at the River Spirit Expo Center in Tulsa, Okla., during the 33rd annual Lucas Oil Chili Bowl Midget Nationals.
Prior to that he will compete in the Lucas Oil Tulsa Shootout, which is Jan. 2-5 at the River Spirit Expo Center.
QUICK RESULTS –
Dec. 15 – Southern Illinois Center in Du Quoin, Ill. – Heat race: 2 (3); Qualifier: 1 (3); Feature: 3 (7).
UP NEXT –
Jan. 2-5 at the River Spirit Expo Center in Tulsa, Okla., for the 34th annual Lucas Oil Tulsa Shootout
MEDIA LINKS –
Website: http://www.DerekHagarRacing.com
Twitter: https://twitter.com/HagarDerek
SPONSOR SPOTLIGHT – Fragola Performance Systems
Housed in Southington, Conn., Fragola Performance Systems manufactures fittings, lines and hoses for the racing industry. For more information, visit http://www.FragolaPerformanceSystems.com.
"Fragola Performance Systems are all in all a good fitting and line manufacturer," Hagar said. "They make really good lightweight hose. I prefer them over anybody else as far as a good pressure hose."
Hagar would also like to thank Dynotech Performance, DHR Suspension, B&D Towing and Recovery, J&J Auto Racing, Xtreme Race Graphics, ButlerBuilt Professional Seat Systems, Weld Wheels, Hinchman Racewear, Wix Filters, Wings Unlimited, FK Rod Ends, Valvoline and Ti64 for their continued support.
INSIDE LINE PROMOTIONS –
Inside Line Promotions specializes in affordable public relations and media management for motor sports drivers, teams, sponsors, tracks, series, events, organizations and manufacturers. ILP Founder Shawn Miller leverages professional journalism with new media technologies and social networking to improve your exposure and the return on investment for your sponsors.
To meet the media relations needs of your program by joining Team ILP, contact Shawn at 541-510-3663 or Shawn@InsideLinePromotions.com. For more information on Inside Line Promotions, visit http://www.InsideLinePromotions.com.
---
Article Credit: Inside Line Promotions
Submitted By: Shawn Miller
Back to News